Airtel 5G Launch Date, Plans, SIM, Cities, Speed Test: In this article, we will discuss Airtel 5G launch details in India, its 5G bands, and which cities will get Airtel 5G first, and more. Apart from this, we have also added Airtel's 5G download speed and what 5G internet plans will be offered to Airtel users. Simply expand the table below and go to any section you want.
After the completion of the 5G spectrum auction, telecom operators are preparing to launch 5G services in India. We recently published a detailed guide on Jio's 5G launch, and in this article, you will find everything you need to know about Airtel 5G launch in India. From Airtel 5G launch date to supported 5G bands in India, download speed, list of Airtel 5G cities, etc., we have compiled all the resources for you.
Latest Update – 5G Services launched by PM Narendra Modi on 1 Oct 2022 in the 6th edition of Indian Mobile Congress. Airtel has announced that it will roll out 5G in 8 cities starting on 1 Oct 2022.
Airtel 5G
So on that note, let's go ahead and know about all the developments of Airtel 5G in India and when we can expect it to use its 5G network. Now, as you can see, Airtel did not bid for the lower 700 MHz frequency band, while Reliance Jio worked hard for it and acquired the 700 MHz spectrum in all 22 circles in India. If you are wondering why Airtel did not adopt the 700Hz frequency band, the company's CEO Gopal Vittal explained the reason in an interview with TelecomTalk. In the latest 5G auction held in India, Airtel did a pretty solid job in getting a 5G spectrum from all categories of frequency bands. Airtel 5G trial network is now live in Cyber ​​Hub in Gurugram, Phoenix Mall, and Lower Parel in Mumbai, and Hyderabad. Airtel's next destination for 5G trials will be Kolkata.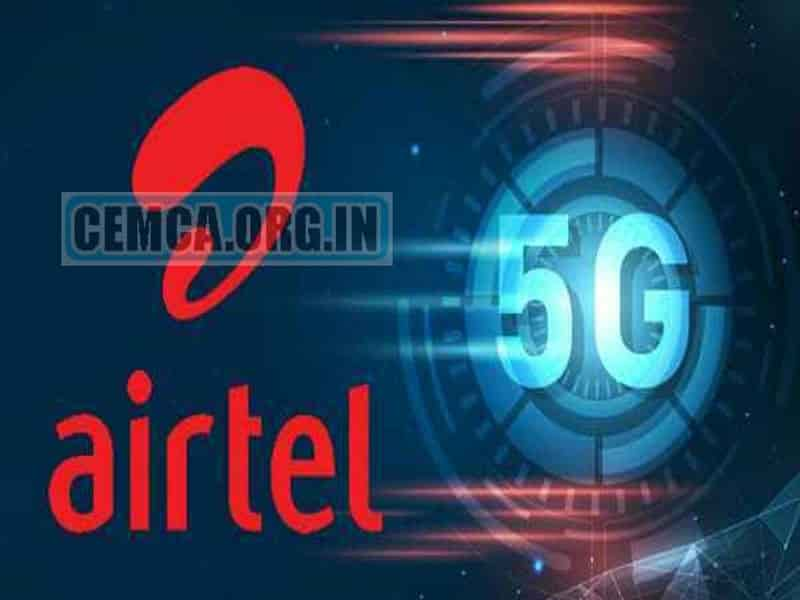 About Bharti Airtel Company
| | |
| --- | --- |
| Type | Public |
| Industry | Telecommunications |
| Founded | 7 July 1995; 27 years ago (1995-07-07) |
| Founder | Sunil Bharti Mittal |
| Headquarters | Bharti Crescent, 1, Nelson Mandela Road, New Delhi, India |
| Area served | India |
| Key people | Sunil Bharti Mittal (Chairman and MD) |
| Products | Fixed line and mobile telephony, broadband and fixed-line internet services, digital television, and IPTV |
| Parent | Bharti Airtel |
| Website | www.airtel.in |
Also Check JIO 5G in India 
5G launch in India
In the second place, after Reliance Jio, Airtel spent Rs 43,084 crore to secure 19.8 GHz worth of 5G spectrum. Notably, Airtel bought the following 5G bands in India – 900 MHz (n8), 1800 MHz (n3), 2100MHz (n1), 3300 MHz (n78), and 26 GHz (n258, mmWave). Airtel CEO Gopal Vittal had recently confirmed that the telecom operator would launch 5G services in August.
The company said that it will start deploying 5G networks in India by the end of this month in partnership with big tech companies like Samsung, Nokia, and Ericsson. The telecom giant revealed that Airtel plans to cover all towns and cities, including rural areas, by 2024.
Also Check BGMI Lite Release Date
Airtel 5G Launch Details
Bharti Airtel is going to launch a 5G service in India soon. The telco will start by offering 5G in major cities of the country. Most likely, cities, where Airtel has already tested 5 G networks for various use cases, will also get commercial 5 G services. If you are someone who is excited about the launch of Airtel's 5G network or 5G network in general, then this is for you. Airtel has secured spectrum from the Department of Telecommunications (Department of Telecom) in several bands during the recently concluded 5 G spectrum auction.
Airtel shared with the media that it has secured spectrum in the following bands – 900 MHz, 1800 MHz, 2100 MHz, 3300 MHz, and 26 GHz. The telco bid for a total quantity of 19867.8 MHz airwaves at a cost of Rs 43,084. This spectrum will be with Airtel for 20 years. Airtel will have to pay this amount to DoT in equal annual installments along with 7.2% interest. This is the first time that Airtel will partner with Samsung to deploy a mobile network. Till now, Samsung had only worked with Jio for 4G deployment as Jio did not want to work with Chinese vendors.
Also Check Google Task Mate App
Airtel 5G Spectrum
This is almost half of what Jio spent on the 5G spectrum auction. While Jio got the coveted 700 MHz band, Airtel bought a 100 MHz spectrum in the 3.5 bands and 800 MHz in the millimeter band across India. Airtel has acquired 19,867.8 MHz spectrum in the 900 MHz, 1800 MHz, 2100 MHz, 3300 MHz, and 26 GHz frequency bands through the auction for Rs 43,084 crore. The telco is confident that with the said spectrum it will be able to offer the best 5G experience in India in terms of coverage, speed, and latency.
Also Check BGMI Redeem Codes
However, Airtel users are yet to experience a 5G network even if they have a compatible smartphone. Government regulations currently do not allow testing with end users. Additionally, the equipment that operators use for such tests has specialized software. The launch of 5G in India will not take much time, so users will be able to enjoy faster internet speeds. On the occasion of India's 75th Independence Day, Prime Minister Narendra Modi addressed the nation from the Red Fort and announced that 5G service will soon be available across the country. With regard to the rollout of 5 G networks in India, Airtel and Jio have already made some important statements.
5G Bands and Supported Phones in India
After waiting for years for 5G connectivity, one of India's three major telecom operators, Bharti Airtel has a launch timeline for the next-gen cellular network technology. In a new press release, Airtel has confirmed that it will launch its 5 G services in the country before the end of the month. We are happy to announce that Airtel will launch 5 G services in August. Our network agreements have been finalized and Airtel will work with the best technology partners worldwide to ensure that our customers get the full benefits of 5G connectivity.
Also Check Free Fire Nickname
Airtel is tying up with Ericsson, Nokia, and Samsung as network partners to offer 5G services in the country. This news comes after the recent spectrum auditions by the Department of Telecommunications in India, where Bharti Airtel bid for a 19867.8 MHz spectrum in 900 MHz, 1800 MHz, 2100 MHz, 3300 MHz, and 26 GHz frequencies and acquired. However, with no official rollout date from any telco, all three major telecom operators in India will be in the race to become the first service in the country to launch a full-scale 5G network.
FAQs
When will Airtel 5G launch in India?
Airtel CEO Gopal Vittal recently confirmed the company's plans to provide 5G services in August.
Which cities will get Airtel 5G network first?
According to Airtel, initially, only 13 cities will have 5G services. According to reports, these cities include Ahmedabad, Bengaluru, Chandigarh, Chennai, Delhi, Gandhinagar, Gurugram, Hyderabad, Jamnagar, Kolkata, Lucknow, Mumbai, and Pune.